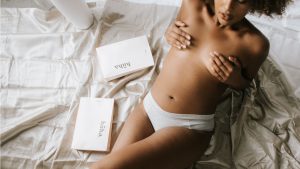 It's our favorite time of year! All of the sex toys are going on sale and we can shop our favorite brands at a steal of a price. Whether you're shopping for your partner, friend, or simply yourself, these Black Friday sex toy deals are guaranteed to heat up the holidays. 
And don't worry if you or your loved one is a sex toy newbie. All of the brands on this list offer sex toys and accessories that are perfect for everyone, from novice to sexpert. And besides, what better way to show someone you love them than with the gift of pleasure? Ahead, you'll find some of the best sex toy deals totally worth scoring.
What started as a doctor's mission to help men who struggled with premature ejaculation, Promescent has evolved into a collection of sexual wellness products designed to enhance every intimate experience. Their flagship product is a clinically proven delay spray for him, which helps men last up to 64% longer. They also have an arousal gel for her that further closes the orgasm gap, and so much more. Promescent is leading the way to more fulfilling sex.
Save 20% on orders of $50 or more with code BF2020.
We-Vibe, the creators of the entire Couple's Toy category, now provides some of the industry's most popular products of the highest quality products. So much more than "toys," We-Vibe's research and development keeps pushing the envelope of pleasure and technology.
Save 20% sitewide—no code necessary.
Three words: Pleasure. Air. Technology. Those incredible pulses of air that indirectly stimulate the clitoris and deliver mind-blowing orgasms—that's what Womanizer is all about. Emily has even dubbed it the "Orgasm Whisperer." Every Womanizer product features these patented pulses, making them one of the most unique sex products on the market.
Save 20% sitewide—no code necessary.
Direct to you from Germany, pjur lubricants (pronounced "pure") feature only the highest quality ingredients and are available in formulations for every occasion. Remember: using lube can actually increase the chance of your orgasm, whether you're using it with sex toys or your partner. If you're looking to start dipping your toes into the lube pool, consider pjur.
Save 20% sitewide—no code necessary.
The origin of Emily's first vibrator is now the most trusted source for quality pleasure products. Good Vibrations has everything from toys to games to lubes, and it's all been tested and proven to make sure you're getting the best. 
Save 20% sitewide—no code necessary.
One of the most iconic names in sex toys is now one of the hottest sex toy deals. The Magic Wand has been delivering pleasure since 1968—yep, before we even went to the Moon. Cosmo calls it "the Little Black Dress" of vibrators, Time magazine chose it as one of the century's most influential gadgets, and New York Time's Wirecutter named the Magic Wand Rechargeable as Vibrator of the Year for 2020. In other words, you can't go wrong.
Save 20% sitewide—no code necessary.
Are you ready for something mind-blowing? Try Zumio. Its precision tip and totally unique motion are built for exploration, with rotation and NOT vibration–a totally unique experience. That's right, it's not a vibrator, but it will give you some pretty intense orgasms. And, to ensure you're getting the most of your experience, they just released a 25-page companion guide called "Mapping Your Pleasure: Zumio's Guide to Vulva Exploration." Trust us, this will change your self-discovery practices. 
Save 20% on any model and get the guide for free with your purchase—no code necessary.
Give yourself the gift of better sex and a firmer body. P.volve offers on-demand workouts that use "Functional Fitness" to get you in shape, which basically means it's working your body from the inside out. This not only includes your core but your pelvic floor, as well. And if we know anything about a stronger pelvic floor, it's that it can lead to better orgasms.
Save 50% off equipment kits and memberships through Sunday with code BF50, then 30% off sitewide the week after with code BF30.
Ready to dive deep into your sexual wellness with Emily? Or maybe you want to learn to cook. Or negotiate. Or play basketball. Whatever you want to learn, you can do it with MasterClass. They have classes on every topic from the world's leading experts—including Emily. Right now, you can buy one membership and get one free for a friend. Happy holidays!
Even if you're a Kegel expert, doing these exercises regularly and effectively can be challenging. Enter Yarlap, a discreet, FDA-cleared device you use at home to strengthen your pelvic floor automatically. Their exclusive AutoKegel technology delivers precision stimulation to your PC muscle. The results? Kegels of steel, no more sneeze-and-pee, and even stronger orgasms.
Save $50 with the code FAMILY
Newsflash: Low Testosterone can affect everything from sexual performance and desire to your ability to stay in shape. But it's normal and certainly nothing to be embarrassed about. The good news: you can do something about it, and New England Low T Center is here to help you. Their medically-controlled and doctor-prescribed treatments can optimize your testosterone levels and put the spring back in your step.
Save 20% on your first order and add a 10% lifetime discount on all their services with code EMILY
Pro Tip: flavored lube will change the way you think about oral sex forever. Not only do Muse flavors taste incredible for the giver, but they also make oral feel amazing for the receiver. Trust us, it's a win-win.
Save 50% with code MUSEBF50
Je Joue is the name behind a whole host of "Just Right" sex toys. From their awesome Mimi Clitoral Vibe to their Mio Penis Ring, you will find something that is the perfect fit, power, style, and price for you. And with 30% off, it's one of those sex toy deals where you can check out with something for nearly everyone on your list. 
Save 30% off any product with code EMILY30
Looking for erotica that literally speaks to you? Try &Jane. You can listen to audio erotica created authentically by women storytellers. Follow your favorites every week or even submit your own anonymous sexy stories. It's 100% inclusive, ethical, and totally hot.
Exsens brings you some of the most luscious lubes, lotions, and body care items all the way from France. We're obsessed with pretty much everything they make, from their Warming Massage Oils to their amazing intimate care collection called Intime. These are products you can feel good about using, as they use only the best ingredients—and yet still come with amazing scents and tastes.
Get a FREE GIFT with any purchase over $50.